The art is the story and the story is the art : Autumn Universe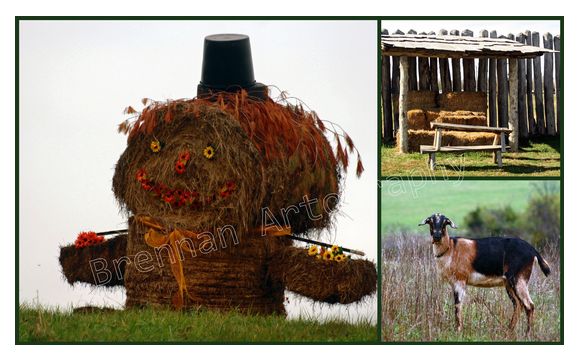 Autumn is almost upon us and now is the time to welcome the season into our spaces, physically, emotionally and spiritually, for fall does fill your spirit, lift your emotions and generate joy in your physical spaces.
'Kentucky Hay Man' is one of my all time favourite shots. I was back in Kentucky and a friend of my cousin lived on one of my 6XG. grandfather's homestead. She allowed me to spend time shooting on her property. She raises horses, goats, cows, chickens, makes goat soap, grows and makes wonderful teas. She has a tea shop/cafe in town that is exceptional. Everything is authentically organic as was in the days of my ancestors.It was a tremendously emotional experience for me to stand where my ancestors had stood and look out over the rolling foothills. On the drive back (leaving Kentucky is always hard for me), we passed by a farmer's field and saw the Hay Man. I was in love. The owners create something each year for their goats to eat and that year it was the Hay Man. 'Kentucky Hay Man' continues to bring joy everywhere he goes. The goat is of course 'The Kentucky Goat' on my cousin's friend's farm. I love photographing animals, they actually pose for you.
'Hay For My Horses" was shot at another stop, Fort LaMotte. I named it 'Hay For My Horses' because that is what it was when the Fort was a real part of the early American Landscape. I love America. I love my heritage. I never tire of walking into the image, becoming part of it, experiencing that moment, because all time exists at once. Red Cloud said 'You are the center of the universe. The center of the universe is in me and in you'.
I am the result of eons of time, because of the past, and all that was existing and my ancestors "I" exist. I am also the progenitor of the future. Because of me the future will exist. Without me, without you there will be no future for the seeds of the future lie within us. The center of the universe exists in me, exists in you, exists in everyone, exists in all things in heaven and earth. We depend upon the past and the future depends upon us. Don't let it slip by you. G-d bless.
Bring 'Autumn Universe ' into your space and let it fill you with joy. G-d bless.
Available in a variety of medias, wood, metal, canvas. Ask about specialty discounts.
https://www.alignable.com/fond-du-lac-wi/brennan-artography-sophisticated-wanderlust-de-cor-let-me-entertain-you-entertainment-speakers-http-brennanartography-com/october-is-my-favourite-colour-aug-2020