The art is the story and the story is the art.
Happiness Lies In Your Own Backyard.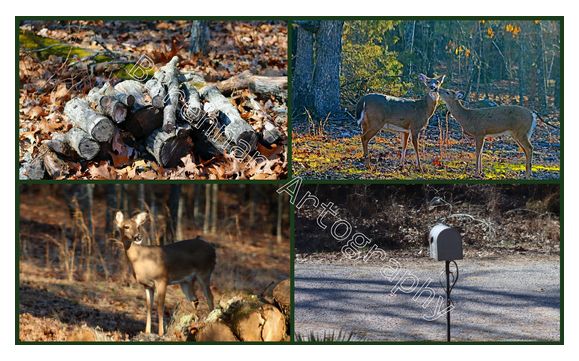 I went to Arkansas to visit a lifelong friend who was experiencing  some health problems. It had been years since we had seen each other and I was excited to go, equally  excited to get out into the community and take pictures. When  I arrived, my vision of the visit completely changed. I wanted to be there enjoying the friendship much more than  roaming through the area.Yes, that's fun and we did it but the old adage 'Happiness lies in your own backyard'  hit me like a ton of bricks. I would look out the kitchen window and a beautiful family of deer  would  walk into my life and share theirs  with me. Wanting to experience every minute I could with them, I ventured outside hoping  they wouldn't bolt and run. I can still feel the wonder. This  was a real family, looking out for each other, showing affection to each other, eating what they needed and leaving the rest. I watched them day after day, becoming part of their family. Everything was in harmony, no discord. There was a tenderness, actual love between them that left me breathless.Walking down the driveway path to the mailbox in my plaid lumberjack style jacket past the wood pile  filled me with a very real joy. I never felt so  alive.  Looking out over the Ozark woods feeling the energy generated made me almost dizzy (perhaps from so many trees producing oxygen) but, whatever the reason it made me feel more alive. I wanted to bring that feeling to  you, to allow you to walk into the picture and experience the oneness of our universe around you. Even if you live on concrete it is there, for it is everywhere.   The universe  is all around you.  Walk into it's wonders and become one with it.
G-d bless.